How to get around Europe as a solo traveller
Bus
Buses are the cheapest way to get around, and although they're slower than trains, they can still be comfortable and easy to use. Flixbus offers affordable rates on bus routes to most major cities, or book tickets at local bus stations for the cheapest rates.

Note – in Eastern Europe and the Balkans, there is less availability of Flixbuses but plenty of local buses.
Trains
Train services across Europe are reliable and easy to navigate, particularly in Western Europe. Book train tickets in advance on Trainline or Raileasy for cheaper rates on long journeys or cross-country routes. Or just grab a ticket from the local train station when taking less-congested routes.

If you plan on visiting multiple places during solo travel in Europe, look into the Eurail Pass, which covers 33 European countries. However, the Pass requires taking many journeys to justify the cost, so it's best for multi-city holidays. For many travellers, avoiding the pass and spending longer enjoying fewer destinations is often cheaper.

Tip: use a comparison website like Omio to compare train and bus routes across Europe and book tickets in advance.
Flights
Porto, Portugal
Budapest, Hungary
Solo travel rating: easy.

There are many great reasons to consider Budapest in Hungary as the best city in Europe for solo travel: it's cheap, safe and has great nightlife and many hostels. I've been several times and can definitely vouch for it as a great European destination to travel alone.

It's easy to keep busy during a Budapest itinerary, from treating yourself to a relaxing soak in a hot spa, cruising down the Danube by boat, visiting the beautiful Fisherman's Bastion or eating your way around the best Budapest food spots.

For social travellers, stay in a hostel and check out the cool ruin bars or clubs with new friends. If you prefer travelling at a slower pace, you'll be happy for hours strolling around the gorgeous local parks, visiting Margaret Island in summer, or people-watching in one of the iconic coffee shops.

Safety: 8/10.

Meeting people: easy.

Budget: affordable, at least compared to other Western European capital cities.

Best hostels: two of the best are the Loft and Carpe Noctem.
Barcelona, Spain
Dublin, Ireland
London, England
Berlin, Germany
Dalmatia, Croatia
Albania
Solo travel rating: medium.

If you want to find the most magical (but budget-friendly!) solo beach holidays Europe offers, this is where Albania enters the chat!

Despite the cheap costs, you're not sacrificing quality by choosing Albania for your solo trip to Europe. On the contrary, it's one of my favourite countries – ever! – and I've been to a lot of places!

The minor disadvantage of visiting Albania solo is that the tourism infrastructure isn't excellent. The buses are hot and inconvenient, you always need to get cash out as you can rarely pay with card and there are no taxi apps. Tirana isn't my favourite European capital by any means, although it has some trendy coffee spots and eateries alongside a decent selection of attractions.

But when it comes to stunning outdoor adventures, you're in for a treat. Head to Himarë for beach town vibes (or go resort-style on a budget in the more touristy destinations of Sarande and Ksamil), Shkodër for hiking the Theth-Valbona trail through beautiful mountain landscapes, and the UNESCO town Berat for wineries and waterfalls.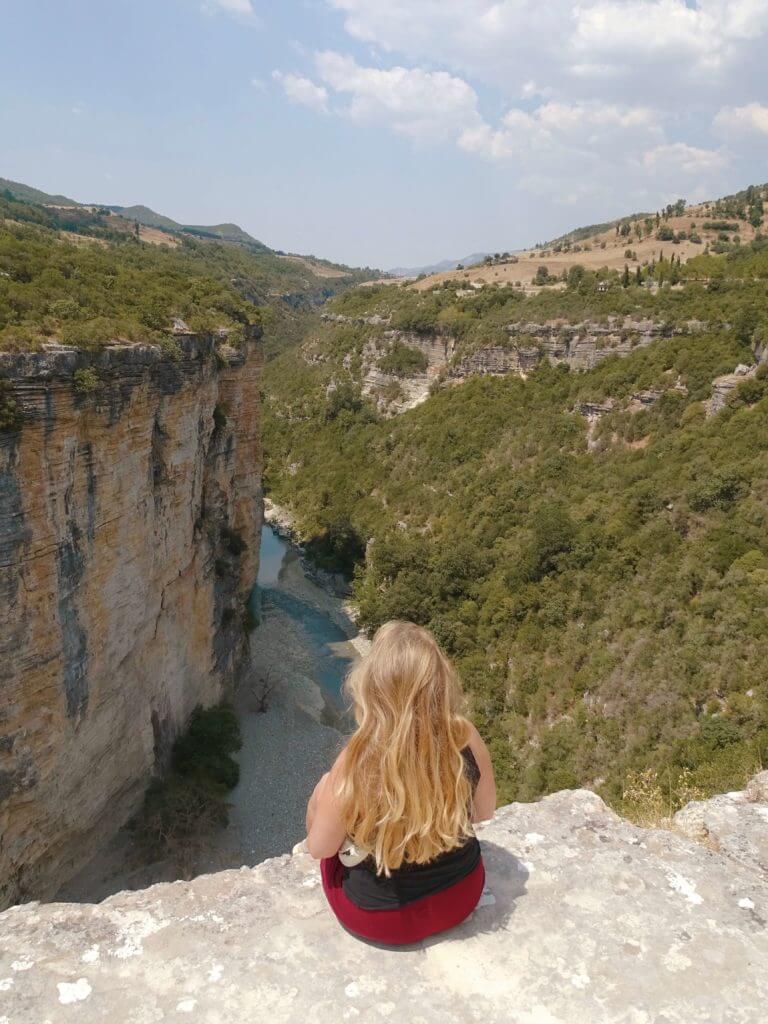 Oh, and not forgetting Gjirokaster, my fave place in Albania. I still dream about its cobbled streets, cute markets and tasty regional treats. Definitely make the effort to see the view from the top of the fortress!

Safety: 8/10.

Cost: CHEAP. Hostels cost from €8-12 (usually including breakfast) and cross-country bus trips cost about €4-10.

Meeting people: easy in hostels – Albania is clearly making waves as a great Europe solo backpacker destination.

Hostels: Wanderers Hostel for hiking in Theth (they'll even organise everything for you), Stone City Hostel in Gjirokaster and Sun Bakers Hostel in Himarë.
Zagreb Folk Fest, Croatia – showcasing the music and culture of Croatia and surrounding countries.

Keukenhof and King's Day, the Netherlands – friendly Amsterdam is already one of the best solo city breaks in Europe. However, visit during Keukenhof, the Tulip and Flower Festival, for extra charm. If your trip coincides with Kings Day, you'll see locals and tourists fill the streets wearing orange.

Christmas markets – perfected in Germany but found in capitals and towns all around Europe in winter. Between the festive light displays, great food and mulled wine, they're perfect for adding a bit of festive sparkle to any solo travel Europe itinerary.

Hogmanay, Scotland – Europe's coolest NYE party, filled with local tradition and fireworks.